To request more information on a particular painting please click here
ackart118@aol.com

CHRISTINE SANFORD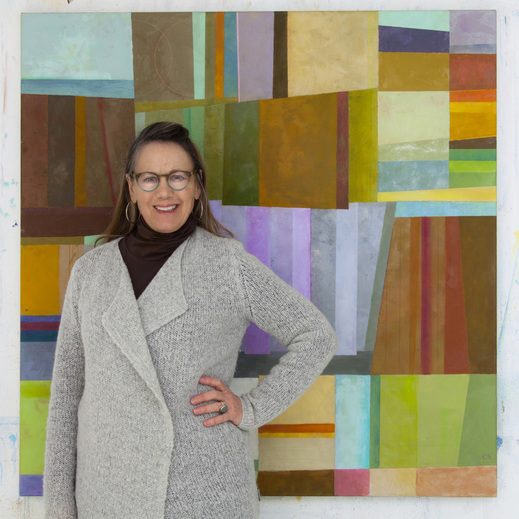 ​Most of my paintings are non- representational.
Inspiration comes from the world around me and my personal experiences in it. A painting may be about a book I am reading, music I am listening to, a beautiful garden, a long bike ride or a thoughtful conversation.
I am interested in exploring color relationships, creating space and surface tension and expressing signature mark making.
Experimenting, adjusting, changing and layering color combinations, while trying to create interest, movement and nuance goes on until I feel the painting feels balanced and has an energy of it's own. I use rags, brushes and all kinds of tools for mark making and accomplishing texture. I like to work with gravity to create drips and shapes of interest.The paint often leads the way.
Paying attention to chance, luck and accepting the lack of certainty and the certainty of making mistakes are a big part of my process.
I am always eager to see what comes into play with each new painting
.
​
Born 1948 Bryn Mawr , PA
Arts Education
1981 – 2015 Painting , drawing & critique classes at Artists' Association of Nantucket , MA
2014 Jenny Nelson Advanced Abstract Workshop , Woodstock School of Art , Woodstock , NY
2013 Japanese Woodblock Print Workshop , Snow Farm Craft Center, MA
2011 Printmaking Workshop , Anderson Ranch , Snowmass, CO
2007 Painting Residency , The Vermont Studio Center , Johnson , VT
Solo Exhibitions
2015 Cape Cod 5 Bank , Nantucket , MA
2011 – 2015 Robert Foster Fine Art Galler y , Nantucket , MA
2012 Page Bond Gallery , Richmond , VA
2003 -2011 South Wharf Gallery , Nantucket , MA
2008 Mildred Hawn Gallery , Southern Methodist University , Dallas, TX
Selected Group Exhibitions
2004 -15 Page Bond Gallery Richmond , VA
2012 -15 Robert Foster Fine Art Gallery , Nantucket , MA
1981-2015 Artist's Association of Nantucket , MA
2013 Page Bond Gallery at Art Basel , Miami , FL
2011-14 Open Studio #4 Old North Wharf , Nantucket , MA
1999 -2011 South Wharf Gallery , Nantucket , MA
2004 Gallery 54 "Nantucket in Soho " , NYC , NY
2000-2003 "X" Gallery Invitational , Nantucket , MA
1983 Quilt National: New Directions for an American Tradition , Athens , OH
1976 Quilts for the Bicentennial Celebration , Philadelphia Museum of Art , PA
Curated Shows
1990 Nantucket Craft Show , Thomas Macy Warehouse , Artist's Association of Nantucket . MA
2008-10 Silent Auction Artist's Association of Nantucket , MA
2003 "Trees" Artist's Association Gallery of Nantucket ,MA
2002 "Revealing the Light" South Wharf Gallery , Nantucket , MA
​
Selected Collections
University of Virginia Children's Hospital , Charlottesville , VA
Philadelphia Museum of Art , PA
Museum of Art & Design , NYC , NY
Ben Stiller
Lynn & Nick Nichols
Virginia Joffe
Mr. & Mrs. David Dalury
Caroline Weld
Barbara & David Spitler
Vivian & Bob Braunohler
Susie Lister Locke
Ellen & David Ross
The Pearl Restaurant , Nantucket , MA
John Mitchell & Associates , Boston , MA
Karin Weller
Anne Fitzgerald & Eric Savesky