JOAN ALBAUGH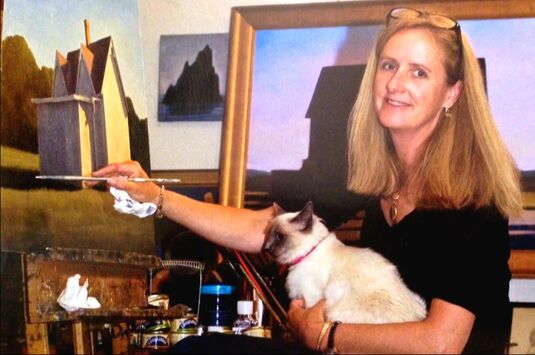 Throughout my career as an artist, certain themes and images have continued to weave in and out of my work.Though they
may change and evolve, their essence remains constant. Be it
an isolated house, an empty pool, a snorkeler, a buoy, or an iceberg, these images are all echoes of a story, a story perhaps without a plot that continues to unfold. As I paint mostly in the winter, my palette and light often reflect the quiet months of the offseason.
I studied at The School of the Museum of Fine Arts, Boston,
where I received a BFA through Tufts University. While there I concentrated in watercolor, oil, assemblages and collage, being very influenced by the box maker, Joseph Cornell. Though I no longer construct boxes, I like to think that my chosen image evokes a similar feeling, a certain remembrance of things past,a memory found, a connection captured.
Upon moving to Nantucket, I began a series of isolated houses. Being entranced by the strong winter light, so blinding and sharp that trivialities of architecture are all but obliterated, the house became a symbol. Whether a house, a snorkeler, a road, or a landscape, these symbols are used as tools to tell a story, to connect and to evoke our shared human experiece.
for more information on a painting click here
ackart118@aol.com