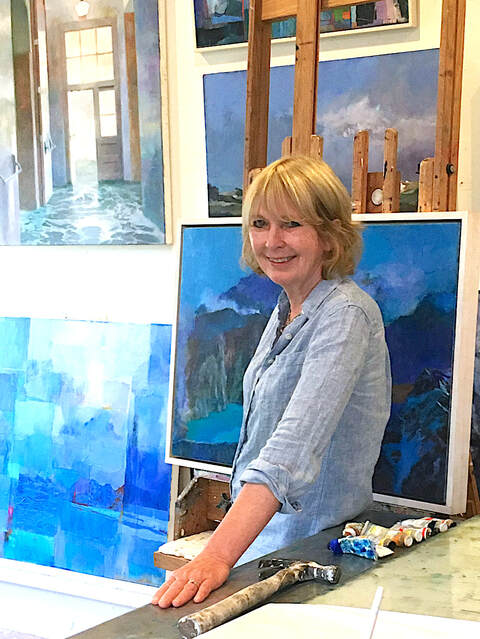 I work from the idea of environments that are real, imagined and inherently unstable; inspired by natural phenomena, fragments of memory, unexpected encounters. The paintings evolve from interwoven collected imagery and describe a journey through landscape, interior space and memory. The weight of time is offset by the drama and urgency of the quickly vanishing moment.
Walking in the landscape is central to my process. I draw inspiration from my photographs and drawings with pastel and oil. Occasionally I create an environment in the studio, using a small aquarium as a contained space. I combine inkjet prints, water, ice, glass and projected light, then photograph the experiment and use this photograph as a reference for my painting.
I have been invited to participate in "The Arctic Circle 2019"; art and science expedition September 2019. The Arctic Circle is a nexus where art intersects science, architecture, education and activism - an incubator for artists and innovators to seek out and foster areas of collaboration to engage in the central issues of our time.
​
SOLO EXHIBITIONS
Hostetler Gallery, Nantucket MA / 2017, 2018
Graficas, Nantucket, MA / 2015, 2016, 2017
Old Spouter Gallery, Nantucket, MA / 2012, 2013, 2014
South Wharf Gallery, Nantucket MA / 1996 thru 2011
David Findlay Galleries, New York NY / 2003, 2005, 2007
Chase Gallery, Boston MA / 1998
Gallerie Lumiere, Savannah GA / 1997
The (x) Gallery, Nantucket MA / 1995
Main Street Gallery, Nantucket MA / 1988 thru 1994
SELECTED GROUP EXHIBITIONS
Slant, Nantucket MA / 2016, 2018
PH21 Gallery, Contemporary Photography / Budapest, Hungary 2015
C.M. Russell Museum, Montana / 2014, 2015
National Weather Center Biennale, Norman Oklahoma / 2013, 2015
Spirit of Place, 40th Anniversary Photo and Video Contest,
Maine Media Workshop, Rockland Maine / 2013
Art Takes Times Square, New York, NY / 2012
TruthinBeauty, Vyner Street Gallery, London England / 2010
The (x) Gallery, Nantucket, MA / 1990 thru 1994
The Old Rectory, Shropshire, England / 1999
Earth and Fire Gallery, New Orleans LA / 1996
AWARDS
The Arctic Circle Residency
Art and Science expedition to the High Arctic, Fall 2019
Studio Visit Magazine 2014, 2015, 2018
Spirit of Place Photography and Video Contest / 2013
Vermont Studio Center, Johnson VT
Fellowship and residency 2000, 2002
Arts in Embassies, Washington DC
Two year Traveling Exhibition 1994-1996
REPRESENTATION
Old Spouter Gallery, Nantucket MA
---